Return Shuttle Service to Whakapapa Ski Area

***Contact us direct for group deals or multi day discount***


Schedule


Departures National Park Village Accommodation or Park N Ride
*(Whakapapa Village we only pick up those staying at accommodation in the village)
Times of departure 800am, 830am, 900am, 930am, 10am, 1030am, 11am (other times on request) *Departure times from accommodation may vary
Regular Return times from Whakapapa Ski Area hourly through to day to 415pm with a possible extra service at 330pm and 230pm on busy days.(your return times stated in booking changes subject to availability)
*All times dependent on vehicle availability, road and weather conditions and commercial viability..
*Selected return times maybe changed if available on the date of travel.
Contact ruapehushuttle@gmail.com for further details.
***Our Covid Safe Policy - All Passengers no matter what age are to wear facemasks correctly without exception while travelling inside our vehicles***
About our Service
We operate two 4wd vans and a 22 seater Toyota Coaster bus but may also use other vehicles and operators should demand and conditions dictate. All of our vehicles are equipped with seat belts.
This gives us the flexibility except in extreme conditions of not having to chain up at Whakapapa Village. After all that's what you pay for right? smooth service! We have been driving on the Ski Access Road of Whakapapa for nearly 20 years so you know you in safe hands.
Our services transfer you from National Park Village park n ride or accommodation locally all booking times are subject to change due to demand, road and weather conditions.
*Private groups are vehicle specific and are not discounted these need to be booked separately. Due to the heavy demand on our services a weekends this may not be possible to delay or alter the arranged times at last minute.
*We are unable to carry infants or any child that is not wearing a facemask or unable to be seated with a seat restraint.
*Minimum number of passengers is required to run the service please call in advance to check
*Cancellation fees apply to all cancelled bookings when pre paid. Free transfer of booking to another day should weather affect your reservation.
Please wear your mask BEFORE boarding the shuttle if you do not have a mask we provide them for $2 either paid at booking or added to your booking.
No Mask No Ride No Arguments or Refunds
FAQs
Q, Why do we need to book a return time?
A, By booking a return time it ensures you have a seat at that particular time. On the day we may have some flexibility to change times subject to seating and availability. So if you want to only stay hour or so what we do suggest is book the latest possible time you want to come down. We are more than happy to bring you down earlier should you choose.
Q, Do you pick up from accommodation?
A, Our Schedule is designed around picking up from the Park N Ride however we can do a sweep around National Park Village Accommodation enroute. Please be aware Shuttle times maybe earlier or later than the time you booked to enable us to do so.


How To Book
Select number of passengers, location of pick up and destination, you will also be asked to indicate one way or return with us.
Select the time of departure (departure times on service maybe delayed due to Alpine Road Conditions beyond our control).
2nd page Additional extras maybe indicated before the Return time to be selected.
Return times - Please select a preferred return time priority will be given to those passengers booked at that time. Earlier or later return times subject to space availability. Please note return times must be for the same date.
Note:- If a return time is unable to be booked that means the shuttle at that time is FULL. Please do not book a return time earlier than the departure time. We take no responsibility to provide a seat in that situation due to user error.

In the event of you missing a departure time we reserve the right to transfer you to a later shuttle with availability or another operator at additional cost. No refunds for missed shuttles.
Please note on busy days space is limited we appreciate you being ready 10 minutes prior to the scheduled times. Running late from first run disrupts everyone's day and we reserve the right to place you on a later shuttle should you not be ready at the allotted time. Pick ups from accommodation maybe earlier or few minutes later than booked times. Please speak to the driver on the day for clarification and any changes permitted.
NOTE:- Payment may not show up on booking straight away. Unless you want to pay non refundable booking and merchant fees?
Our one way service is for those seeking other arrangements for the return journey or flexibility for separate booking schedule.


Photo Gallery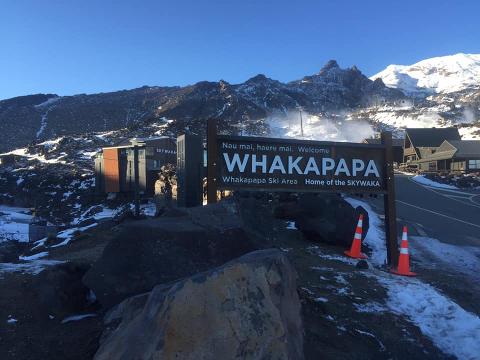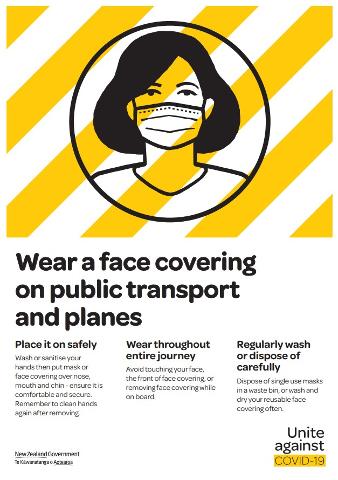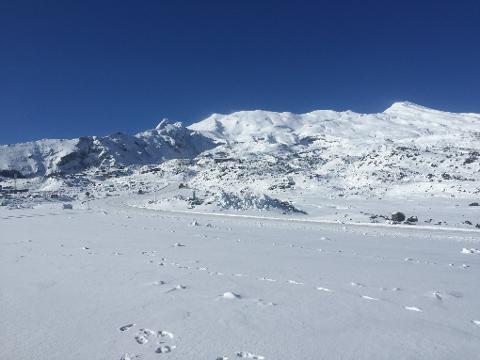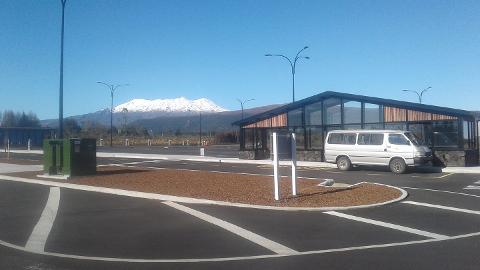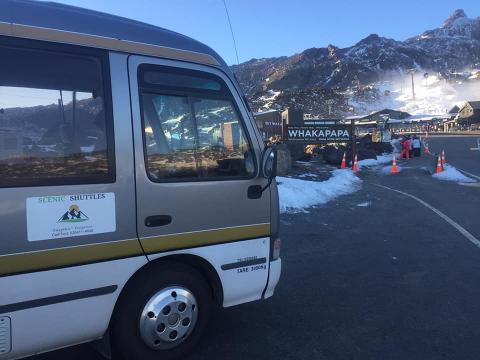 Terms and Conditions
Passengers are required to wear a face covering to protect our drivers and other passengers. No Mask No Ride or Refund We are unable to carry infants or any child that is not wearing a facemask or unable to be seated with a seat restraint. Ruapehu Scenic Shuttles reserves the right to alter or cancel pick up or return times from those requested on booking subject to availability of vehicles and drivers. We are not responsible for any cost you incur via errors made in booking and not following booking instructions. Passengers who miss the pre arranged time will be liable for any costs incurred by the operator which include no refund or transfer. Please note to be ready 10 minutes before allotted time No shows no refunds. If there are no seats available on a later shuttle an additional fee may be charged to provide another vehicle or late service. Passengers may join an earlier shuttle only if seating is available. Schedules are subject to weather, Road Conditions for safety or other circumstances beyond our control. Return times are preferred times when booked on the return service and maybe changed by the driver/operator or if contact is made with the driver by the passenger within a reasonable time. Sticking to your return time means less stress for you and a seat on the bus. One way shuttles have no return seat guarantee unless booked. Ski Area closure - Request for refund or transfer must be made via email within 72hours of operator cancellation or will be transferred to another date. Late bookings with less than 24 hours notice are non refundable but maybe transferred. The Ski area being closed is defined by Ruapehu Alpine Lifts opening no facilities. If the Ski area closes after the transport has occurred there is no refund . Exception If the journey to the ski area is interrupted a partial refund maybe applied Bookings that are transferred to another date during 2022 operational ski season or transferred/creditted to another person or service within 6 months. All refunds are at the discretion of the supplier of the purchase price and not limited to our standard Terms and conditions. Carrying of infants will not be permitted where a seat is shared. We reserve the right to refuse carriage should we not be informed of an infant prior to booking and no appropriate restraint available. No refunds will be given to any person who fails to adhere to safety instructions. We operate to an Alpine Safety Code and compliance to NZTA rules and regulations. No person shall force the operator or driver to breach those safety rules.