Park your car at the end of the track at the designated shuttle pick up area then catch our one way shuttle to the start of the Tongariro Alpine Crossing. Duration of travel approximatly 30 minutes drive.

715am and 815am shuttles from $50 per person plus other times available.
*conditions apply


We want you to enjoy your time whilst Hiking the Tongariro Alpine Crossing. We will pick you up at the Ketetahi Carpark area on state highway and take you to the Tongariro Alpine Crossing. This is a one way shuttle service only.

Please click the link for pick up location on Lake Rotoira Road at the end of the track.
Important Information
Please ensure that you have also filed your intentions to do this iconic hike with the Department of Conservation website details of how to do this will be sent in our confirmation email to you.
As an approved DOC operator we have passed the environmental standards set by DOC, as well as safety standards set by an independent auditor, and been approved to operate in public conservation areas.
Always READ THE DOC ADVICE ON THE TAC supplied through the DOC Booking system and be prepared for all weather conditions. In the event of a Hazardous weather advisory or at the discreation of the operator conditions are unsuitable our shuttle will not run. We offer a reschedule free of charge or refund.
Your safety is important to us! This is a walk over a mountain, if you turn up ill prepared we have the right to refuse passage without a refund.
In the event you should decide to turn around a transfer fee back to you car of $40 per person not less than $160 will be charged we suggest you consider our return shuttle service if you do not feel confident in completing the crossing in a reasonable time.
As a DOC AUDITED and APPROVED concession operator an activity fee of $7.10+GST per person is used to help maintain the tracks, huts and biodiversity projects. This is included in the shuttle fee you pay.
In the event of insufficient numbers we will endeavour to place you on the closest available shuttle we run or suggest another operator if available or you can elect to pay the minimum we require to operate this shuttle service (contact the operator direct)

Safety to us is paramount at the end of your hike please let us know you completed the track with a simple text. This is our way of ensuring everyone is off the track in the event of a search and rescue or other event.
Please be ready for departure at the time selected as being late disrupts everyones day and may attract a late fee or cancellation of booking

*Notes:- A minimum of 4 passengers per time slot maybe required at this low rates. In the event of insufficient passengers booking maybe transfered to another time available or on your request a refund in accordance to our terms and conditions or you may pay the minimum we require to operate the service.
Photo Gallery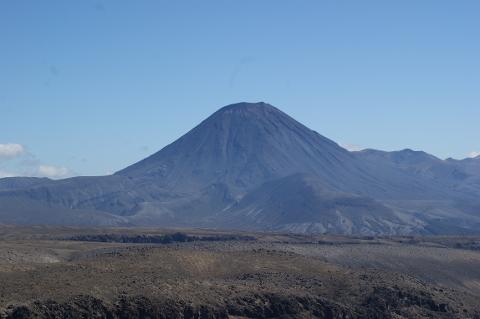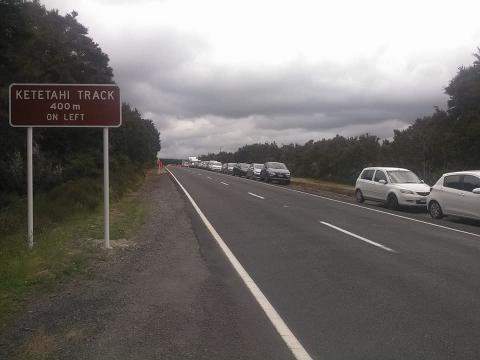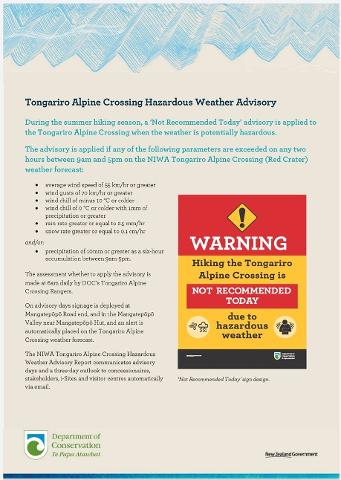 Location
Ketetahi Day Park, Tongariro National park Tongariro National Park
Get Directions
Terms and Conditions
Please note a second booking is required from the Department of Conservation this can be done after reserving your shuttle here https://www.doc.govt.nz/parks-and-recreation/places-to-go/central-north-island/places/tongariro-national-park/things-to-do/tracks/tongariro-alpine-crossing/booking/tongariro-alpine-crossing-booking-system/booking-form/ *Notes:- A fixed price up to 3 passengers inclusive DOC fees minimum is payable for instant confirmation. Otherwise a Minimum of 4 passengers per time slot maybe required for a shuttle to depart we do advise calling in advance when booking 3 passengers or less to confirm. If we can not run we will refund minus the product price only. Your booking will be marked as pending until confirmation when the minimum number is triggered. Bookings recieved with less than 24 hours notice are non refundable. Latest confirmation time is 6pm. You are responsible for checking the weather and we are aware if other operators cancel you will tend to book with us so no refund. We reserve the right to cancel at short notice if track, weather conditions become unsafe or insufficient bookings. Cancelled bookings will be liable for a cancellation fee at discretion of the operator not limited by the standard terms and conditions. In the event you are unable to proceed the full crossing and need to be returned to your car at Ketetahi an additional call out of $40 per person or $160 minimum would be payable. We suggest you use our Return Shuttle Service from National Park Village or Owhango if you believe you may not complete the entire 20km crossing. In the event weather that would be declared a Hazardous weather advisory or other unforeseen natural or government notification.  Our cancellation policy would allow you to move the booking to another date at no charge or issue a transferable credit to another service or person. Refund request must be made in writing no later than 3 days after postponed trip. We provide or refund of product price less unrecoverable 3rd party service fees from the booking agent rezdy or merchant fees from card provider Stripe. Private shuttles may be arranged at an additional fee by contacting supplier. Correct clothing - Denim clothing is not acceptable The Driver has the right of refusal of transport should anyone be late, not be wearing correct clothing, unfit to travel or does not follow drivers safety instructions. Ruapehu Scenic Shuttles will not be responsible for where you leave your vehicle during the course of your adventure. These terms and conditions are not negotiable